Home
The International Federation of Abortion and Contraception Professionals (FIAPAC) is an organization of professionals working in the field of abortion and contraception.
Our website provides information on a professional level. Here you will find a broad range of information from an international perspective, in particular the contents and presentations of the FIAPAC conferences.
17th ESC Congress • Sexual Rights and Contraception in a Turbulent World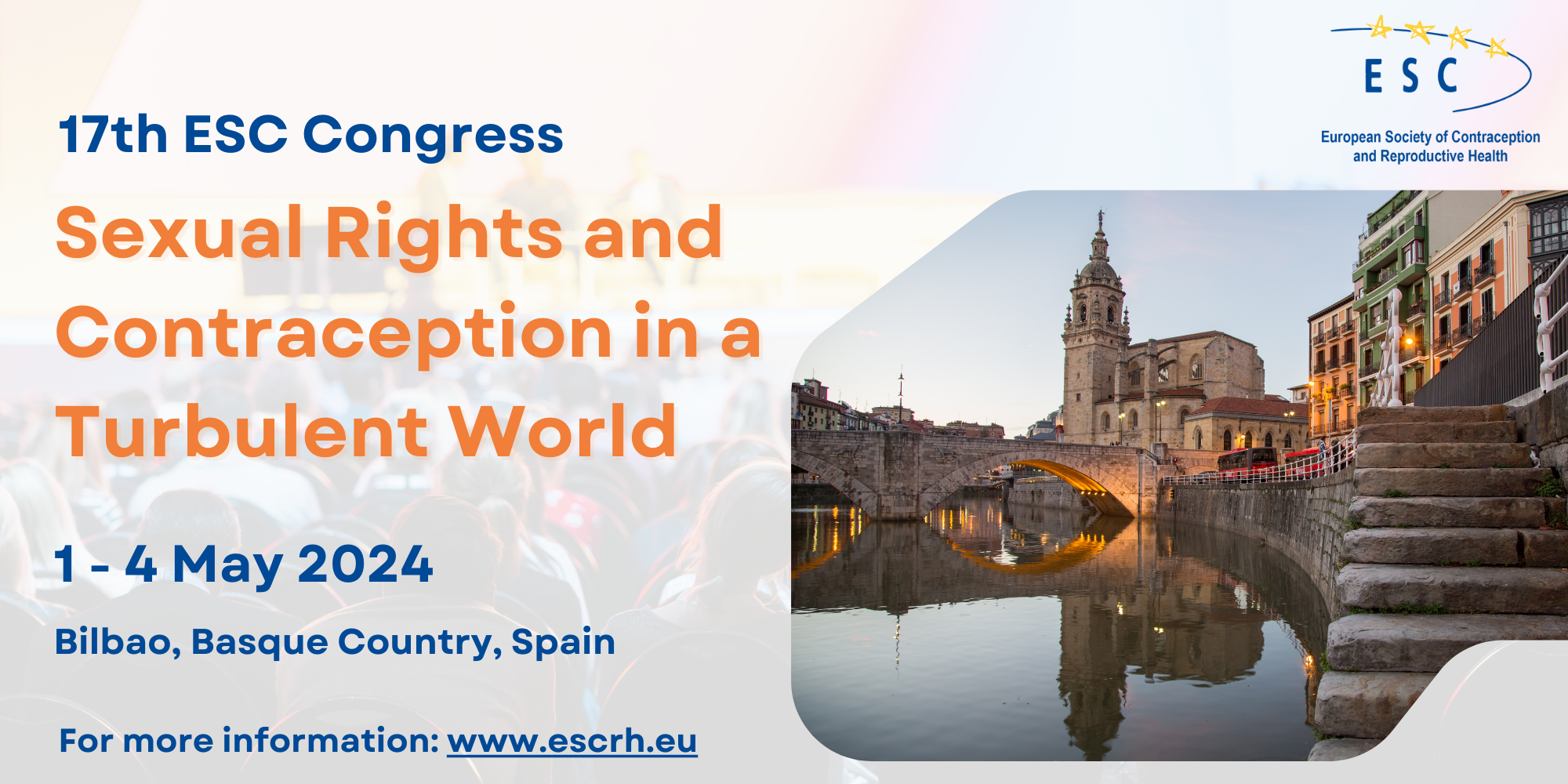 International safe abortion day: 28 September 2023
FIAPAC is a partner of the Abortion Right platform, which organises on 28 September an event at the European Parliament for a fundamental right on abortion.
https://28sept.abortionright.eu
FIAPAC Webinar - 22 September 2023, 4 PM (CET) • Online
Abortion Care: Maintaining Women's Choice of Method
Program:
Access to method choice: A US perspective
Laura McIsaac, MD, MPH, FACOG, Professor and Associate Director of Fellowship in Family Planning,
Department of Obstetrics, Gynecology, and Reproductive Science,
Department of Medical Education, Graduate School of Biomedical Sciences, Program in Public Health, Icahn School of Medicine, Mount Sinai Health System
Abortion options available in Sweden
Annette Aronsson, M.D. Ph.D, Director WHO-centre, Karolinska University Hospital,
Department of Women's and Children's Health, Stockholm
Abortion care: What do women want
Carolina Rivas Barrera, Gynecologist in Ginesur Sevilla
Panel discussion: "How do we maintain surgical abortion training"?
To watch the recording, send a mail to admin@fiapac.org.
FIAPAC Statement on mifepristone in the US
FIAPAC unreservedly condemns recent attempts using the judiciary system in the USA to suspend the FDA's approval of mifepristone, which has been available for use in early abortion since 2000.
The medication has been used by millions of women throughout the world and is highly valued by the members of FIAPAC as a safe, effective, and acceptable alternative to vacuum aspiration procedures.
FIAPAC's president, Nausikaa Martens commented:
"There is extensive evidence to support the safety of mifepristone, and no clinical reason to deny it to women in the USA. This move is clearly intended to limit women's choice to have an abortion by making the procedure more difficult to access and more expensive. It would set a dreadful precedent if political interests were to influence the regulatory approval of the medication."
FIAPAC Webinar - 27 April 2023, 4PM (CET) • Online
VEMA - Very Early Medical Abortion
Program:
4:00 PM Welcome and introduction
4:10 PM Medical Abortion before Confirmed Intrauterine Pregnancy: A Systematic Review - Karin Rebecka Brandell, Dept Women's and Children's Health, Karolinska Institutet, Stockholm, Sweden, Södertälje Hospital, Södertälje, Sweden
4:35 PM VEMA in Clinical Practice - Dr. John J. Reynolds-Wright, CSO/NES Clinical Lecturer in Sexual & Reproductive Health MRC Centre for Reproductive Health, University of Edinburgh, Chalmers Centre, NHS Lothian
5:00 PM VEMA "Open debate" pros and cons
5:25 PM Summary and close
INTERNATIONAL SAFE ABORTION DAY, Wednesday 28 September 2022
As an international federation of providers and advocates of safe abortion, FIAPAC condemns every attempt to impede or undermine the right to choose abortion.
Every woman should be able to decide the future of her pregnancy according to her conscience, regardless of reasons or circumstances. A just society does not interfere with this private decision. We uphold the right to access abortion as an integral part of healthcare and express our solidarity with everyone who works to provide this.
We insist that clinical decisions about abortion care should be made by those directly involved in it. It is not for politicians to dictate what women should be told or how clinicians should practice.
Membership 2023
Join us and become a member here.
We need your help! Please recommend FIAPAC Membership to your network and colleagues.
The following tools may assist in spreading the message:
-----------------------------------------------------------
2022 FIAPAC Conference

9 - 10 September 2022
11 September AM - post-conference session, open for French-speaking participants
Riga, Latvia
Theme: Fertility control into the hands of women
More information is here.
Statement regarding the Conference in Riga and the situation in Ukraine
We understand there have been some concerns expressed about international travel due to the conflict in Ukraine. The FIAPAC board has made a full consideration of this and given that Latvia has no border with Ukraine and the huge distance from Riga to Ukraine (over 1000 kms away), we are still be reassured that the in person conference should go ahead.
The FIAPAC board feel that it is important to show solidarity with our members and friends in Europe and confidence in their future stability.
Obviously, we will keep the situation under review, and develop a "plan B" in case of adverse developments, but for now we urge you to support us - and particularly our Latvian colleagues - by registering for the conference as soon as possible, and by promoting the event to others.
We are sure you will find lots to interest you in the programme. While the COVID pandemic has posed many challenges it has also allowed us to pilot new telemedical interventions on a scale we could never have imagined. We will have masses to discuss in Riga and, on behalf of the Committee, we are looking forward to seeing you there.
General Assembly 2022
The FIAPAC General Assembly (GA) will take place on Friday 9 September 2022 from 18:00 - 19:30 (members only).
Place of the meeting: Riga Stradins University, 16 Dzirciema street, 1007 Riga, Latvia.
The final agenda is enclosed here.
Members are allowed to bring a proxy vote to the GA in case a colleague paid-up FIAPAC member would not be in a position to attend the GA meeting. The form to be used is enclosed here. No other forms will be accepted and we will check on-site if your colleague is indeed a paid-up member. Each attending paid-up member is entitled to one vote. He/she may also cast one proxy vote only.
FIAPAC Board elections 2022
2022 is a year in which Board elections must be organized.
Time table
1 July: reference point at which the number of members per country is calculated to determine the number of board representatives for each country. Each country may have one representative on the Board if they have five paid-up members; two representatives if a country has twenty or more paid-up members.
1 July: start application period
1 August: closing date for applications.
2 August: countries are informed of the candidates, followed by e-voting (by 2022 paid-up members only).
September: the new Board will be announced formally at General Assembly
Call to Action
FIAPAC endorses the Call to action from the Center for Reproductive Rights.
The decision by the United States Supreme Court in Dobbs vs. Jackson Women's Health Organization overturns Roe v. Wade, thereby dismantling the U.S. constitutional right to abortion. The decision will have a profound and devastating impact.

Read the full Cal to Action here.
RCOG information

The RCOG Making Abortion Safe eLearning resources are new free resources for healthcare professionals who want to expand access to abortion care through advocacy and education, available on the RCOG eLearning platform.
In the blog Educating the next generation of abortion providers – how to get it right by Dr. Jayne Kavanagh, RCOG Clinical Education Lead, and Dr. Patricia A. Lohr, Medical Director at BPAS, they discuss the role of medical education and training in abortion, the barriers to providing it, and the work of the RCOG to create the next generation of providers.
The Best Practice Papers in abortion care and post-abortion care are now available on the RCOG website. The Best Practice Papers are a succinct and useful tool for clinical practitioners and educators, synthesizing evidence-based guidance from the WHO, RCOG, and others. The papers have been designed so that they can be adapted to the different local contexts.
FIAPAC statements
Letter from FIAPAC to the Members of the National Council of the Slovak Republic (28 October 2021)
Statement on the recent law restricting abortion in the US state of Texas (published on 14 September 2021)
Statement on 'She decides ...' (published on 9 March 2017)
Statement on the situation in Poland (published on 13 April 2016)
Statement of solidarity with the Federation for Women and Family Planning in Poland
Statement on the prosecution of women in Northern Ireland for offenses relating to abortion